An ISO 9001 certified organization
Get best deals of Electric Conveyor Ovens online designed using best modular components with quality tested to ensure perfect functioning and suitable for various heating zones
Company Brief
We, Narang Scientific Works., are one of the most trusted manufacturers, exporters and suppliers of ovens, electric conveyor ovens, industrial ovens, and automation systems from India. Our manufactured ovens are very energy-efficient. They assist the user to save up to 66% electricity, as we can supply these with various heating medias like infra-red heating elements, electric heaters; thermic-fluid/steam radiators or oil/gas fired heat exchangers.
Currently, we have with us a ready stock of Ovens, Industrial Ovens, Electric Ovens, High Temperature Industrial Ovens, Conveyor Ovens, Roto Curing Ovens, Vertical Conveyor Ovens, Monorail Overhead Conveyor Ovens, Monorail Floor Conveyor Ovens and more, which we can promptly deliver to reputed clients based across the world. Apart from offering a large variety of ovens and machines, our company has also successfully installed its machines for the largest number of applications in India.
Most Popular Products
Hot Offers
Recent Launches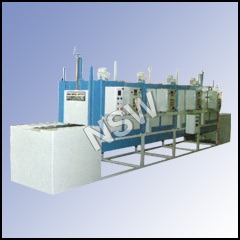 We are the leading manufacturer and exporter of best quality Electrically Heated Conveyor Oven, Electric Conveyor Ovens. This oven is perfectly manufactured at our premises by making use of quality assured materials as per the international quality standards. This oven comprises of fans and blowers in order to ensure proper air circulation and to maintain the temperature. According to the customers' requirements, we offer this Electric Conveyor Oven in different sizes and specifications.